Infobox incomplete (SPECIAL stats)

The infobox template in this article is missing some required data. You can help

The Vault

by

filling it in

.
Conrad Kellogg

Statistics
Tag Skills
Citizen

"
The thing about happiness is that you only know you had it when it's gone.
"
— Conrad Kellogg, Fallout 4
Conrad Kellogg (c. 2179[1]—2287[2]) was a Californian human mercenary working for The Institute out of Fort Hagen in 2287.
Background
A legendary mercenary operating in the Commonwealth, Kellogg is a tough, no-nonsense customer who has seen it all while serving the Institute. For his actions, he had been enhanced with synthetic upgrades to the point that he is barely human; volunteering for every augmentation, he felt he had nothing to lose at that point in his life.[3][4] A monster by any reasonable estimate, the Sole Survivor witnessed Kellogg kidnap their son Shaun and murder their spouse in cold blood, earning Kellogg a death sentence.[5]
His biography is interesting, to say the least. Born in 2179 in what would become the New California Republic, Kellogg grew up in a dysfunctional family with a deadbeat father.[6] At ten years of age, he was witness to the historic event of the Republic's foundation under President Aradesh,[7] though his problems were more immediate: Conflict between his mother and his father grew, to the point that her gift for his birthday was a .44 revolver and the title of the head of the family. She may have hoped that Kellogg would kill his father. Instead, he ran away.[8][1][9]
As he grew older and more proficient with the gun, he earned himself a reputation as a legendary gunslinger in the Hub. Eventually, he tired of the fame and moved to San Francisco to start over.[10] He brought his wife Sarah and infant daughter Mary with him.[11] It was supposed to be a fresh start, but old habits die hard. He worked for the Shi as a hired gun – and eventually, his family paid the price, slaughtered like common curs.[9]
Kellogg took to the road, wandering east to get as far away from San Francisco as possible. He lived by the gun, killing for a living. As the years went by and his humanity eroded, he became ready to become a monster. The meeting with the Institute agent in the Commonwealth was the point where he abandoned all that was human about him, becoming just like the synths of the Institute. When he demonstrated his ability to disable three Institute synths in close quarters, without preparation, he was hired.[9]
By the 2220s, he was the Institute's primary operator in the Commonwealth. If they wanted something done, they came to him. He and a team of scientists were sent to Vault 111 to recover a child, on orders from the Institute Director. Nobody knew why they were told to do that - or not to refreeze all but one of the cryo pods. That's where Kellogg murdered the Sole Survivor's spouse and abducted their son, Shaun. The Survivor was spared - a costly mistake in hindsight.[9]
He was ordered to settle into Diamond City, to raise a synthetic Shaun and act as bait for the Survivor. Sixty years after the kidnapping, he was assigned to track down Brian Virgil in the Glowing Sea, but before he could carry out his mission, he was confronted at Fort Hagen, his base of operations, by the very person they were ordered to spare. Despite Kellogg's combat prowess and his synthetic reinforcements, the legendary mercenary died on the floor of the commander center of Fort Hagen.[2] While this would be the end of Kellog's physical body, his mind would continue to live on. The Sole Survivor, still in need of finding their son, would lobotomize part of Kellogg's brain and bring it Doctor Amari at the Memory Den. There the Sole Survivor would explore Kellogg's memories through Nick Valentine who would host the lobotomized brain part. After the memory dive, Nick Valentine and Conrad Kellogg's personalities would be permanently fused foreshadowing that Kellogg would have further influence over Nick Valentine,[12] but is never brought up again.
Interactions with the player character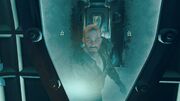 Interactions overview
| | | |
| --- | --- | --- |
| | This character is involved in quests. | |
Quests
Inventory
Notable quotes
"I finally ended up in the Commonwealth. I kind of ran out of road, plus I'd come to terms with life. I wasn't going to be stupid enough to get mixed up with caring about other people again. It was just me against the world. And the world had it coming."

"This world, this life? You've seen it. Pain, suffering. Death is its only escape. But don't worry. Shaun's fine. Maybe a little older than you expected, hmm?"

"What's the cliche? "So close, but yet so far away?" That's Shaun. But don't worry. You'll die knowing he's safe, and happy. A bit older than you expected, but ah well. At least he's in a loving home. The Institute."

"I do what people pay me to do. If that's a problem for you, I can see only one way out."

"I'm glad I didn't have to kill the kid. I'm not saying I haven't done it, but I never like to."
"The eggheads never liked taking orders from a dirty contaminated degenerate like me. But they needed me, and I made sure they knew it."

"If it isn't my old friend, the frozen TV dinner. Last time we met, you were cozying up to the peas and apple cobbler."

"Sorry your house has been a wreck for two hundred years. But I don't need a roommate. Leave."

"At least I know those Institute bastards will soon get what's coming to them, too. If

she

/

he

could take me out, they won't be able to hide from

her

/

him

for long."
Appearances
Conrad Kellogg appears only in Fallout 4.
References