Jurassic World: Dominion Dominates Fandom Wikis - The Loop
Play Sound
A computer is a machine which manipulates data according to a set of instructions. In the Fallout universe, computers range from simple terminal, Automated Personality (AP) to full blown Artificial Intelligence (AI).
Background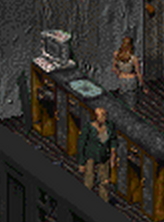 One of the major effects of the timeline divergence is that instead of working to develop supercomputers and miniaturized electronics (in the process creating the first semiconductor, the transistor, in 1947), post-World War II humanity in the Fallout universe invested its technological efforts in further harnessing the atom and robotics. While microchips do exist, they are not uncommon, usually seen among common household items, super computers, and energy weapons alike.[1][2][3][4]
As a result, computers are far clunkier than the ones in our world and some still use monochromatic, command-line interface UI. The personal computer was developed, but due to these limitations on compactness, most models can only be used to store text files; almost all extremely advanced computers exist as large mainframes which can take up whole rooms. The users access them via terminals. Nonetheless, some mainframes are highly advanced in terms of processing power, such as those capable of running an artificial intelligence.
While the typical 80s and 90s desktop computers are seen as map props in Fallout and Fallout 2,[2] it should be noted that some computers are very advanced. For example; Vault City's central computer is capable of "communication" with voice commands and can reformat/update Pip-Boys via a slot designed for them. It also has the ability to produce an animated (with sound) cartoon animations for its various computation events.[5] Also some computers had security devices.[6]
Automated personality
An Automated Personality refers to a computer or a robot created with specific skills and having an automated personality able to speak but only on a preprogrammed set of responses keyed to certain inputs atop a standard operating system. This is achieved using interchangeable computer chips or holotapes that hold different software and can be wired to the AP hardware.[7] They are not able to have logical deduction and reasoning and are less advanced and different than complex AI computers. AP was created in The Sink in the Big MT and appeared only in the Fallout: New Vegas add-on Old World Blues.
Section needed (Curie & Graygarden, and GAI galleria)

This section is needed but has not been written yet. You can help

The Vault

by

writing it

.
Artificial intelligence
In colloquial parlance, Artificial Intelligence refers to a computer or a robot that is "self-aware" – it is capable of not only logical deduction, reasoning and speaking, but knows of its own existence,[8] the possibility of its own mortality (and immortality), and possesses creativity, desire, and, in many cases, emotion.[9] AIs were first created in the United States in 2059.[10] However, due to restraints on memory accessibility, few advances were made in the following years, but these AIs laid the foundation for future research across the country.[10] It would eventually become so commonplace that not only would it be sold on store shelves, it would become common practice for individuals to personalize their product.
List of computers in the Fallout games
Computer commands
Section needed

This section is needed but has not been written yet. You can help

The Vault

by

writing it

.
Simple computers
Doc-u-tron Desktop

model 986 (Fallout 3)
Mainframe computers
RobCo Production Mainframe (Fallout 3)

Archetype Model FF06 Mainframe

(Fallout 3)

Vault-Tec Mainframe

(Fallout 3)

V-29 Mainframe

(Broken Steel)

V-31 Mainframe

(Broken Steel)

House mainframe

(Fallout: New Vegas)

Lucky 38's mainframe

(Fallout: New Vegas)

Vault 11 Mainframe

(Fallout: New Vegas)
Pip-Boy models
Advanced computers
Networks
Automated Personalities
Advanced robotics
Advanced programmed
Reprogrammed
Artificial intelligence
Software
Gallery
References