Cleanup (Section on Clone behavior, cloning in culture, and expansion with scientific information.)

To meet

The Vault'

s quality standards, this article or section may require cleanup. Please help by

improving

the article.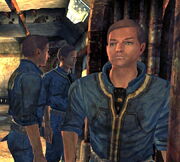 Cloning in biotechnology refers to processes used to create copies of DNA fragments (molecular cloning), cells (cell cloning), or organisms. At least two of the Vault-Tec Industries Vaults were equipped with cloning technology, Vault 8 and Vault 108. Cloning was also extensively used at Big MT scientists, specifically those focused on botanical research.
Usage
Botanical cloning
In Big MT, the GS-2000 Biological Research Station was used to clone plants for research purposes. Not much is known on the process of how cloning was done, but Big MT's research efforts in botanical cloning also created salient green, a molecular paste that when heated can be used to create any plant the user needs.
Therapeutic cloning
Therapeutic cloning involves cloning cells from a human for use in medicine and transplants. Such procedures are routinely done in Vault City.[1][2]
Reproductive cloning
Reproductive cloning involves making an entire cloned human, such is the case in Vault 108, wherein a grand cloning experiment was undertaken by the vault dwellers. The scientists there created a series of 54 clones, but imperfections in the process resulted in the copies becoming progressively more insane and violent. When the observation rooms filled up, the scientists in charge decided to dispose of the clones, which promptly turned on their makers, wiping out the population and forcing the survivors out. The list of victims included Doctor Peterson, one of the first doctors to be injured by a violent clone.[3][4]
The clones were left to fend for themselves in the Vault, with the sole exception of Gary 23, who was abducted by Defender Morrill for the Outcasts' excavation efforts at the Virtual Strategic Solutions, Inc. facility.[5]
Section needed (Nuka-World)

This section is needed but has not been written yet. You can help

The Vault

by

writing it

.
Cloning in culture
Cloning was pervasive in pre-War American culture. So much so that, not only the observant of Vault City know that they do not want to be like one,[6] but also the under educated of New Reno know what one is.[7][8]
References