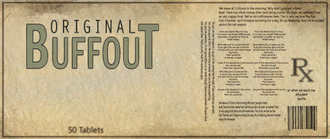 | | |
| --- | --- |
| | This is a lore summary, presenting intradiegetic or in-universe information about the subject. For game characteristics and similar data, consult the table on the right. |
Buffout is a consumable item introduced in Fallout and appearing in nearly every game to date.
Background
Buffout is a brand of highly advanced steroids that increase strength, reflexes, and endurance. Although highly addictive,[1] it was a popular choice among pre-War athletes.[2] Their clandestine - and illicit - use of the drug made its use by amateurs popular and widespread.[3][4] With it, they could run longer and work out harder without the burden of "unnecessary" training.[5] The popularity of the drug resulted in a number of hybridized variants, including Bufftats (mixed with Mentats) and Psychobuff (military modification, combined with Psycho).[6]
Its popularity persists well after the nuclear holocaust, due to its properties. The increase in strength allows a wastelander to punch through several wooden boards with ease and pummel opponents into submission.[7] As such, it's typically banned in places like Vault City[8] or entertainment venues. For example, casino and bar patrons in New Reno were banned from indulging in Buffout, likely to limit altercations.[9]
Variants
Buffout

"The Original" drug increases strength, reflexes, and raises the maximum health, with the disadvantage of being highly addictive. It was sold before the war in bottles of 50 tablets each.[10]
References