Obi-Wan Finale - The Loop
Play Sound
| | |
| --- | --- |
| | This is a lore summary, presenting intradiegetic or in-universe information about the subject. For game characteristics and similar data, consult the table on the right. |
Brahmin or brahma are mutated cattle with two heads found in Appalachia, Arizona[1], the Capital Wasteland, the Commonwealth, the Mojave Wasteland, New California, Nuka-World, and Utah[2]. They are raised throughout the wasteland for their labor, milk, fertilizer, hair, leather, and meat.
Background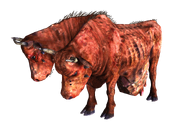 Brahmin are one of the most important mutated species that emerged in post-nuclear America. Descended from the Indian Brahman cattle variant imported to the U.S. for crossbreeding purposes, they developed two heads as a result of irradiation. These toasty brown critters were quickly adopted by survivors as the most versatile and capable livestock animal in the wastes.[3][4] Their major advantage is the fact that while ornery, they are actually easy to manage with as little as a pointy stick.[5]
The reason is simple. Brahmin are universally useful. Living ones can be used to pull carts, cars, plows, provide milk (that's terrifyingly different, yet similar to modern milk), provide efficient fertilizer and fuel for fires (crap,[6] in other words), hair for weaving, and so on and so forth. When slaughtered, they become even more useful as source of meat, leather (tough and durable, fit for everything including tents, clothes, armor, belts, saddle bags, shoes, you name it), bones (which can be fashioned into clubs, tools, dice, hoes, arrowheads), tails (perfect as brushes), and even fat for soap making. They also don't need much to survive, as they can go without water for extended periods of time and can subsist on whatever weeds they find in the arid wasteland,[3] digesting them in eight-compartment stomachs (double the number compared to pre-War cows).[7]
These advantages made them the cornerstone of many a post-nuclear economy, most notably the New California Republic, whose vast brahmin herds are the driving force of its industry and the influence of the powerful brahmin barons. By extension, they also fuel the economy of parasites, such as New Reno during the 2240s, when cattle rustling brought much needed income to the crime families of the city.[3]
Biology
Brahmin are mutated cattle with two heads; in addition to twice as many heads, they also have eight stomach compartments,[8] males have four testicles,[9] and females have enlarged udders. They have lost much of their hair, leaving their skin a toasted brown, orange, or pink color, and attack by head-butting or trying to gore someone with their horns.
Brahmin meat is delicious - if only when compared to other sources of food. Brahmin are a source of milk that is like modern day milk, yet strangely different, it has been said to help heal radiation poisoning.
Wild brahmin can forage for themselves, and they can be found across the wastes, gathered into small herds, wandering here and there, munching on the dirty weeds scattered throughout the desert. Fortunately for the ecology of the wasteland (and the survival of their species), brahmin can go for long periods of time without water - they don't need much to survive. They have a strong sense of smell, and they don't hesitate to stomp over any wasteland predator that threatens them or their calves - well, except deathclaws, because no one messes with deathclaws.[3]
Occasionally, a brahmin is born with a single head - essentially, a regular cow. Ironically, these single-headed brahmin are referred to as "mutated" brahmin. Some doubt their existence.[10]
Variants and relatives
Brahmin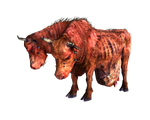 Just your regular, garden-variety brahmin.
Mad brahmin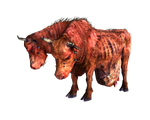 Mad brahmin are brahmin that have gone insane. It is not known whether the brain degeneration is from radiation or from a disease, but one thing is for sure: they will be hostile to nearly anyone they encounter.
Wild brahmin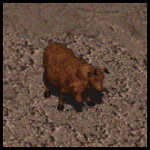 Your typical undomesticated brahmin.
Brahmiluff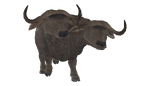 The brahmiluffs are an entirely different species from the brahmin, being descended from the African cape buffalo (Syncerus caffer) rather than the domesticated cow (Bos taurus). Nonetheless, both species evolved independently of each other to possess two heads. The brahmiluffs are found only in the valley surrounding Nuka-World because they are descended from the buffalo that were kept in the Safari Adventure and were freed by the Great War.
Behind the scenes
Originally, the brahmin, as designed by Scott Campbell, were supposed to be lumbering, mutated gophers with long hair. Their appearance was changed, however, because the early brahmin were too similar to the banthas of Star Wars movies. Therefore, they were replaced by two-headed cows.[11]
One brahmin appears as an easter egg in Arcanum: Of Steamworks and Magick Obscura, shown in a freak show and described as coming from "a far away wasteland".
Fallout 3 was banned in India because of the use of the name brahmin, due to its also having a religious meaning in Hinduism.
The Fallout Bibles are incorrect in regards to the origins of Brahmin, stating that it has something to to with the Forced Evolutionary Virus, which it does not.[12]
Gallery
See also
Cattle; the non-mutated mammal that was to appear in Van Buren.
References