Annabelle
Annabelle

Attack statistics

Dmg/Attack
150 (

178.5

) + 200 (

358

)

DPS
663.1 (

1423.1

)

DPS (reload)
77.3 (

158.9

)

Crit Dmg
0

Crit % Mult
x0

Attacks/Sec
1.9 (

2.7

)
AP
47
Projectiles
1
Spread
0.02

Ammo & reloading
Ammo Type
Missile

Ammo/Shot
1

Shots/Reload
1
Ammo Cap.
1

Reload Time
4 (

3

)
Annabelle is a unique missile launcher in Fallout: New Vegas.
Background
A pre-War shoulder-mounted multipurpose missile weapon, consisting of a reusable launch unit with an advanced fire control system and a stainless steel launch tube. The control system is contained within a bulky reinforced control box and allows for a degree of target tracking. Aftermarket guidance systems were introduced shortly before the Great War, allowing for greatly increased accuracy and precision. Of note is the fact that unlike most conventional launchers, this model is a breech-loading weapon. Reloading involves breaking it open and sliding the fin-stabilized missile into the frontal section. The remaining length of the launching tube helps protect the operator from the blast, but even then, anyone standing behind it will be scorched, as the backblast is directed rearwards at a 90 degree angle and reaches up to sixty meters.[1]
It remains a popular weapon with many factions and individuals in the wasteland, including raiders, super mutants, mercenary groups, and adventurers looking for something that packs a lot of punch. The availability of specialist munitions such as hive missiles makes it particularly attractive.
Characteristics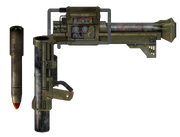 Annabelle is a unique pre-War missile launcher that was used during the annexation of Canada and at least one campaign against the Chinese in the Sino-American War. It features seven kill marks, four for marks for Canada, marked in red maple leaves, and three marks for China, marked in yellow stars. The original owner of the weapon stenciled Annabelle on the rear part of the launching tube, in cursive script.
Annabelle has a built-in guidance system to improve accuracy, and uses less AP in V.A.T.S. than the standard weapon. It is also lighter and has a lower Strength requirement.
Variants
Comparison
| Name | Type | Dmg/shot | DPS | Att/sec | Crit mult | Crit dmg | Spread | AP cost | Ammo | Ammo cap | Weight | Item HP | Value | Stat Req. |
| --- | --- | --- | --- | --- | --- | --- | --- | --- | --- | --- | --- | --- | --- | --- |
| Missile launcher | Missile launcher | 125 + 200 | 513.1 | 1.6 | x0 | 0 | 0.3 | 55 | Missile | 1 | 20 | 50 | 3900 | Explosives:75 Strength:6 |
| Annabelle | Missile launcher | 150 + 200 | 663.1 | 1.9 | x0 | 0 | 0.02 | 47 | Missile | 1 | 15 | 100 | 5200 | Explosives:75 Strength:5 |
Location
Notes
Prior to patch 1.3.0.452, Annabelle dealt 20 points of damage on direct hits with the missile itself, had a minimum spread of 0.2 degrees, and had a field of view zoom to 55 degrees.
Bugs
If you kill the nightkin sniper and don't get this weapon from him it will not be there if you come back at a later date. This includes entering one of the nearby buildings, loading a save or leaving the area.
Sometimes it will fire a second time without reloading.
Torres' inventory in full condition.
Occasionally, for some unknown reason, it will appear in
Gallery
Sounds
References
↑

Weapon appearance and behavior. The rear plate states that the backblast can reach 60m, although this is not reflected in the gameplay.
Parentheses () denote unique weapon variants, italics denote weapons available through add-ons, * denotes holdout weapons.