Jurassic World: Dominion Dominates Fandom Wikis - The Loop
Play Sound
Audio needed

This article has missing audio files. You can help

The Vault

by

uploading

them.
Andale

Site

Map Marker
Andale

Technical
Cell Name
AndaleNE (north-east)
AndaleNW (north-west)
AndaleSE (south-east)
AndaleSW (south-west)
ref id

000011aa

(north-east)


000011ab

(north-west)


000011b5

(south-east)


000011b6

(south-west)
"
Not here. Not in Andale, no sir/ma'am. The great Commonwealth of Virginia is alive and well. In fact, we just voted ourselves a new governor!
"
— Jack Smith
Andale is a town built on the ruins of Annandale, located just south of Fairfax ruins.
Background
To the casual observer, Andale is like a town straight out of a fairy tale. It's residents stroll around the streets in pre-War clothes, greet visitors with impeccable politeness, and proclaim the virtues of the United States. In fact, it's supposed to be the greatest town in the Commonwealth of Virginia, proudly voting Republican in every election, including the most recent one that elected a new governor.[1][2]
However, as with all fairy tales, the act is just a cover up. To understand it, one has to dial back the clock. When the Great War came, four families hid in their fallout shelters beneath Annandale. The survivors managed to escape death and emerge into the newly created wasteland. However, their food stocks eventually depleted and they were faced with the prospect of hunger. The families solved it in their own particular way: By preying on unwary travelers that came into town.[3]
The cannibalism was deemed acceptable as a lesser evil, justified using a peculiar interpretation of Christianity and family love. Strict gender roles were imposed on family members (males work and hunt, females take care of the house and bear children), and no relations outside the four families were permitted. The pretense of the American Dream was upheld as a smoke screen, to disorient newcomers and hide the vicious nature of the residents.[4][5][6][7]
For two centuries, the families lived in Annandale (eventually abbreviated to just Andale), new generations replacing the old. The families intermarried, without bringing outsiders into the family. Eventually, everyone in Andale was related to each other quite closely, resulting in each marriage being more and more incestuous. By the 23rd century, the pretense was dropped and men married whomever was closest to their ends. Nobody questioned their way of life, except for old man Harris, who realized just how many people perished in the stomachs of Andale's residents.[8]
The town earned itself a sinister reputation, as while nobody realized it was inhabited by cannibals, everyone knew there was something... Off about its inhabitants. Everyone, from caravaneers to raiders, gave the town a wide berth.[9][10][11]
That is, until the Lone Wanderer came into town in 2277.
Layout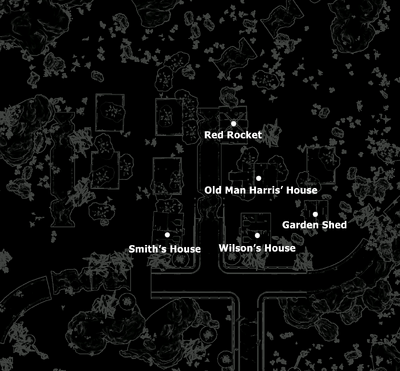 Andale lies south of Fairfax ruins with the Nuka-Cola plant just south-east of it.
Buildings
Inhabitants
Notable loot
Appearances
Andale appears only in Fallout 3.
References
Items in italics denote communities destroyed or abandoned as of 2287