We're Getting Mutants in the MCU - The Loop
Play Sound
| | |
| --- | --- |
| | For an overview of alien power cell ammunition types in varios Fallout games, see alien power cell. |
The alien power cell or APC is an energy weapons ammunition of alien origin found in Fallout 3.
Characteristics
The alien power cell is a luminescent blue cartridge that aliens use as ammunition for their weapons.
Weapons using this ammunition
Locations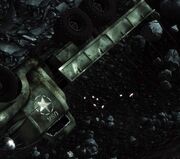 A maximum of 1152 alien power cells can be found in all expansions, without glitches.
Base game
A maximum of 362 alien power cells can be found in the core game.
Broken Steel add on
A maximum of 425 more can be found in Broken Steel.
In Broken Steel during the Shock Value quest, they can be found in two separate locations within Olney Powerworks. In the room with the automated turrets and walls of computers, just above the turrets there are two ammunition boxes each with an average of 40 to 45 (Scrounger-affected esteem). Near the Tesla coil, in the room at the bottom of the coil's pit, there are 36 (3x12) power cells on the stove and table.
A nice amount can be found in the Armory of the Mobile Enclave Crawler at Adams Air Force Base along with an alien blaster: from 10 to 12 are inside the alien blaster case in the armory (this particular stash is NOT affected by the Scrounger perk). Plus, inside the 3 average-locked ammunition boxes just below the blaster's, you will find an average of 46 cells each, pretty much like the containers in Fort Independence's storage room, assuming that you have the Scrounger perk; otherwise, you will not get more than 30-36.
If you destroy the Citadel during the "Who Dares Wins" quest, 72 (6 clips of 12) can be found in the armory in a room with mini nukes and Tesla cannons.
Mothership Zeta add on
There are approximately 365 alien power cells on Mothership Zeta.
Notes
After finishing This Galaxy Ain't Big Enough..., when you return to Earth, it may seem that the APCs and alien blaster are not in their original place. If you go roughly west from the beacon, you will come to a separate crater. In there are the alien items.