Agatha's station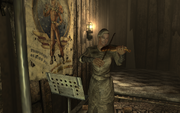 Agatha's Station is a radio station in Fallout 3 that transmits classical violin music played and recorded by Agatha. It is activated after completing the side-quest Agatha's Song.
Agatha tells the player that the radio station is her way of paying back the traders who come to visit her. The station can be heard anywhere in the Capital Wasteland. Between pieces of music, Agatha sends messages to her listeners, telling them to stay safe and to "...most importantly, stay happy!"
Agatha tells the player that she has prerecorded each session on the radio, which explains why you can hear her playing on the radio even when standing right in front of her. Even if she is killed, her radio transmitter will continue to randomly repeat the songs that she has already completed.
Transcript
Related Quests
Music
In this station there are six clips of noodling (pure musical improvisation) and five clips of famous pieces from the violin repertoire: three for violin alone and two for violin and orchestra. She also improvises some pieces; this is known as noodling.
Notes
Parentheses () denote cut content, italics denote stations available through add-ons.